Women of Excellence Awards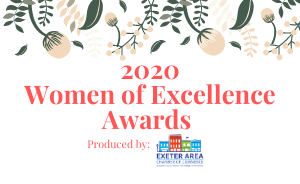 Women in the Exeter Area Chamber of Commerce play a critical role in the regional economy as business owners and executives. The Women in Business initiative of the Exeter Area Chamber of Commerce is focused on building a strong network of women intent on inspiring one another to achieve individual potential; supporting each other in business endeavors; and creating a legacy through mentorship.
2020 Women of Excellence Awards Virtual Event
Friday, November 13, 2020, 8:30-10:00am
We are recognizing the achievements of these strong, talented and POWERFUL women of all ages making their mark on the Exeter Area business community at a special  Women of Excellence Awards virtual presentation with special keynote speaker, Crystal Paradis.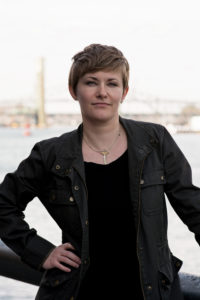 Keynote Speaker: Crystal Paradis, Community Leader & Writer
Crystal Paradis is an activist and advocate who uses strategic communications and community organizing skills to advance progressive values in her community. She is serving her first term as a City Councilor At-Large in the City of Somersworth, and just this week cut the ribbon on Somersworth's first dog park, a key priority of her campaign. She is the Women Run! and Community Engagment Manager for the New Hampshire Women's Foundation and is the Founder of Feminist Oasis, an experimental feminist social enterprise. She has led and volunteered for a wide variety of initiatives and organizations in the Granite State, including Portsmouth PRIDE, TEDxPortsmouth, Planned Parenthood and various political and issue campaigns. When she's not working or volunteering, she is exploring the outdoors with her dog, Daisy.
Thank You to our 2020 Women of Excellence Award Sponsors!