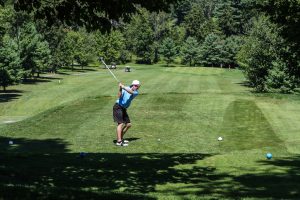 Scenic roads winding along expansive fields and orchards add to the quiet charm of East Kingston, a village that presents an enduring reflection of its New England heritage. Measuring just about 10 square miles, East Kingston was once part of its double-sized namesake to the west. Dubbed Kingston East Parish, the town was granted a separate charter in 1738 by Governor Jonathan Belcher of Massachusetts. The picturesque little town was home to Ebenezer Webster, who just so happened to be the father of the far more famous fellow with the same surname – New Hampshire statesman Daniel Webster.
In its early days, East Kingston was the site of a saw and gristmill, located at the edge of Powwow Pond's Trickling Falls. The town's settlers are said to have described the soil as being of good quality, lending itself well to the cultivation of a variety of products from both farm and garden. Large crops of potatoes, barley, oats and corn, as well as many types of grains were bountifully produced from East Kingston's early farmlands. When cold weather came around, ice cutting in the river was a thriving business, as was the making of bricks by the New England Brick Company.
The memorable Maplevale Turkey Farm on Route 107 made up part of East Kingston's business landscape until the family farm was recently sold and is no longer in operation. The nearby 18-hole golf course, however, still thrives and is the site of some excellent golf action on the greens.
Neighborly and community-minded, East Kingston residents look forward to the annual Old Home Day event, where 4-H clubs and local Grangers add to the country atmosphere that's already present. Though tucked in a rural area, East Kingston is not too far-removed from busier locates such as Exeter, Portsmouth and the immediate Seacoast area.
For those individuals who love the peaceful quiet and enduring charm of an old New England town, East Kingston is a place that provides exactly what they have in mind.
For more information to go www.eknh.org.
Disclaimer: Information is derived from the Economic & Labor Market Information Bureau, NH Employment Security.  For more information on specific towns and services, please contact the town directly. Click Here for More Information