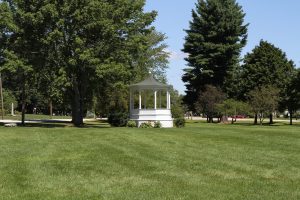 A drive into the town center of Kingston is a glance into the past. A long, broad swath of green, known as the Plains of Kingston, forms the centerpiece of this 300 year old community. Centuries ago, the Colonial militia drilled on the Plains, and cows may even have grazed there. Today, it is the village's distinguishing landmark and a natural gathering place for community activities such as fairs, antique shows and occasional concerts in the bandstand.
Kingston sports an active recreation program for kids and adults, much of which is driven by the efforts of volunteers. Programs include summer camps for preschool and elementary school-aged children, baseball, softball, soccer and Pop Warner Football with the neighboring town of Raymond. Other family activities include the annual Christmas tree lighting ceremony and an Easter egg hunt for the youngsters, both held on the Plains.
Kingston's one-bustling carriage building industry is reflected in the name Carriage Towne, used by several local businesses. A collection of four buildings in town, including the old firehouse, serve as the historic museum and display one of the carriages, along with a horse-drawn hearse.
Two of the area's local schools are found at one of the Plains  -  the elementary school and the regional high school, sequestered behind the gates of the former Sanborn Seminary. A regional middle school is located a few miles south in Newton.
Kingston is well-known for its 44-acre Kingston State Park and YMCA day camps which operate there each summer. Nearby boat launching facilities on Great Pond are open to residents; there's a town beach on Greenwood Lake; and golfers can tee up at a nine-hole golf course on the outskirts of town.
While the Plains of Kingston is fringed with stately historic homes, its countryside is a mixture of everything from old homesteads to new subdivisions. Commercial activities are concentrated in town, along the Plains and on Route 125 (north-south), with its steady stream of traffic. Businesses include RV sales, nurseries, restaurants, auto repair and antique shops. The Farmers Market stops in town each week during the summer to sell locally grown produce and other fresh goods, setting up on the Plains and continuing to draw people to the colonial center of this community-minded town.
For further information, go to www.kingstonnh.org.
Disclaimer: Information is derived from the Economic & Labor Market Information Bureau, NH Employment Security.  For more information on specific towns and services, please contact the town directly. Click Here for More Information