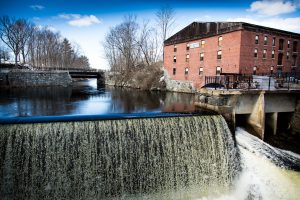 Water is at the heart and soul of Newmarket, a close-knit community of 7,500 residents that stretches along the Route 108 corridor, through a tranquil downtown waterfront and past the old, sprawling saltwater farms and modern condominiums that cluster along the shores of Great Bay. Newmarket's many waterways, its ticket to prosperity during its manufacturing boom, continue to attract residents in today's rush for waterfront real estate. The town boasts mile after mile of valuable frontage on the Piscassic and Lamprey rivers, which merge on Newmarket's northern boundary, as well as along the sprawling shores of Great Bay.
Newmarket's concern for its citizens is evident in the presence of several community buildings and special services. The recreation center houses community services ranging from after-school programs to Meals on Wheels, 4-H to scouting, and is conveniently close to the high school gym. The imaginative and enthusiastic energy of its recreation department staff is responsible for many town activities.
Several small recreational parks are scattered throughout town, including a Little League field, softball fields and two municipal boat launch areas. A tennis and athletic club and nine-hole golf course complement the town's activities.
The town's elementary school (kindergarten through grade five) is considered in local circles as having a particularly progressive educational environment. This is a place where the University of New Hampshire sends its teaching interns and where teachers tap into vast resources of local history and people as an enhancement to the total educational experience. Every year, the renowned First New Market Militia sets up an encampment at the school, becoming the focus of the fourth-grade curriculum. Just up the street, Newmarket High School houses grades six through twelve. And for more than 20 years, Newmarket has supported a thriving day care center.
Homes and apartments tucked into the steep hills behind Newmarket's main street are compact and convenient to downtown, which offers a plethora of campy storefronts. Other neighborhoods on the outskirts of town are wooded, with homes dotted along their winding roads; farms and pastures line the town's country roads.
A trip through Newmarket is sure to include a glimpse of some of the town's waterways, where commerce and pleasure still evolve around the rivers and bay that lie at the heart and soul of this energetic community.
For further information, go to www.newmarketnh.gov.
Disclaimer: Information is derived from the Economic & Labor Market Information Bureau, NH Employment Security.  For more information on specific towns and services, please contact the town directly. Click Here for More Information