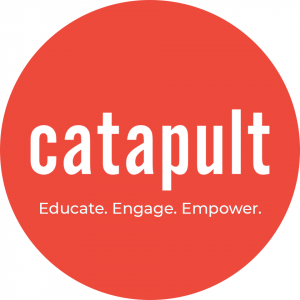 The Seacoast's Young Professionals Network
Monthly Events | Local Establishments | Friendly People
Catapult is the Seacoast's Young Professionals Network. Founded in 2006, Catapult's mission is to educate, engage, and empower young professionals who live or work in the Greater Seacoast area. Whether you're new to the area and looking to make friends or moving back home and hoping to expand your professional network, we host a variety of events to help you thrive.
As of 2022, Catapult is relaunching under the leadership of the Chamber Collaborative of Greater Portsmouth in partnership with the Exeter Area Chamber of Commerce, Greater Dover Chamber of Commerce, and Hampton Area Chamber of Commerce. This merger supports our mission to create connections in our community and to be inclusive of young professionals in all Greater Seacoast communities.
Scott Forte, co-chair of the Catapult leadership team said, "Catapult has been an amazing opportunity for me for the last six years. I highly suggest not only attending the events, but being the hands and minds behind putting these events together. Catapult is a reasonably low time commitment, with great potential for leadership training and growth. For a young professional who did not understand how non-profits worked or what it meant to be a board member, Catapult provided an easy transition into the organization and the volunteer world as a whole. If you want to make your community a better place, network with great people, grow your career and leadership skills, I would highly recommend getting involved in Catapult leadership."
100% Volunteer Driven
Catapult is a 100% volunteer-driven non-profit organization. A diverse group of highly-committed volunteers take personal interest in coordinating events, marketing the brand, and running the organization. Over the years, Catapult has succeeded in touching the lives of thousands of young professionals through its various networking events, social programs and educational seminars.
Programs & Events
Catapult hosts a variety of social, networking and educational events. Our board is excited to create updated programming for you in 2022! What are some familiar events and opportunities that you can expect from us?
• Monthly Connects (5:30 p.m.)
• Monthly Lunches
• Book Club
• Blogging
• Vision Board and Educational Events
• Annual December Holiday Party
• 10 to Watch Awards (in partnership with Seacoast Media Group and StayWorkPlay)
Board Members & Committees
Current Board Members
Elizabeth Mullen, Co-Chair
Scott Forte, Co-Chair
Gina Roth, Co-Chair
Currently Seeking New Board Members:
Event Co-Chair (1)
Marketing Co-Chair (2)
Secretary (1)
Finance Liaison (1)
Currently Seeking Volunteers for Committees:
Events
Marketing